For moms, getting a new job can be stressful under normal circumstances. Add in a pandemic with quarantines, shrinking employment opportunities, shifting school schedules, a lack of child care, and limited after-school programs—and you've got a recipe for trouble.
A single mother, Meredith Metcalf was well aware of the issues faced by moms seeking paid work and did something about it. She started MOMentum in November 2020. The nonprofit's mission is to reduce the feminization of poverty by eliminating barriers to employment for moms while helping employers diversify their workforce.
"Women were already struggling before the pandemic, being moms and navigating the professional world," Metcalf said. "The pandemic made it ten times worse for everyone."
The United States is the only industrialized nation that does not mandate any paid family leave. A 2019 study found that 63% of full-time working parents have a hard time paying for child care. For low-income parents, that increases to 95%.
Moms, on average, are paid 75 cents for every dollar paid to dads. Women of color face a wider pay gap. Latina mothers earn 46 cents, Native American mothers 50 cents, and Black mothers 52 cents for each dollar paid to white fathers. That adds up. Annual losses range from $15,300 to $38,000.
MOMentum was among the first round of grant recipients for the Community Resilience Fund, and the funding gave the new nonprofit a boost along with a 2021 grant for the Omaha Venture Group.
"We were slowly fundraising at the time and $10,000 is a game-changer when you are just getting started," Metcalf said. Funding went toward helping mothers secure and maintain new employment opportunities.
MOMentum offers job coaching and support services in addition to hosting community events to strengthen social support systems.
"We've helped over 70 women since March 2021, connecting them to employers, helping them with applications and resumes, providing Uber vouchers, and referrals for child care," Metcalf said.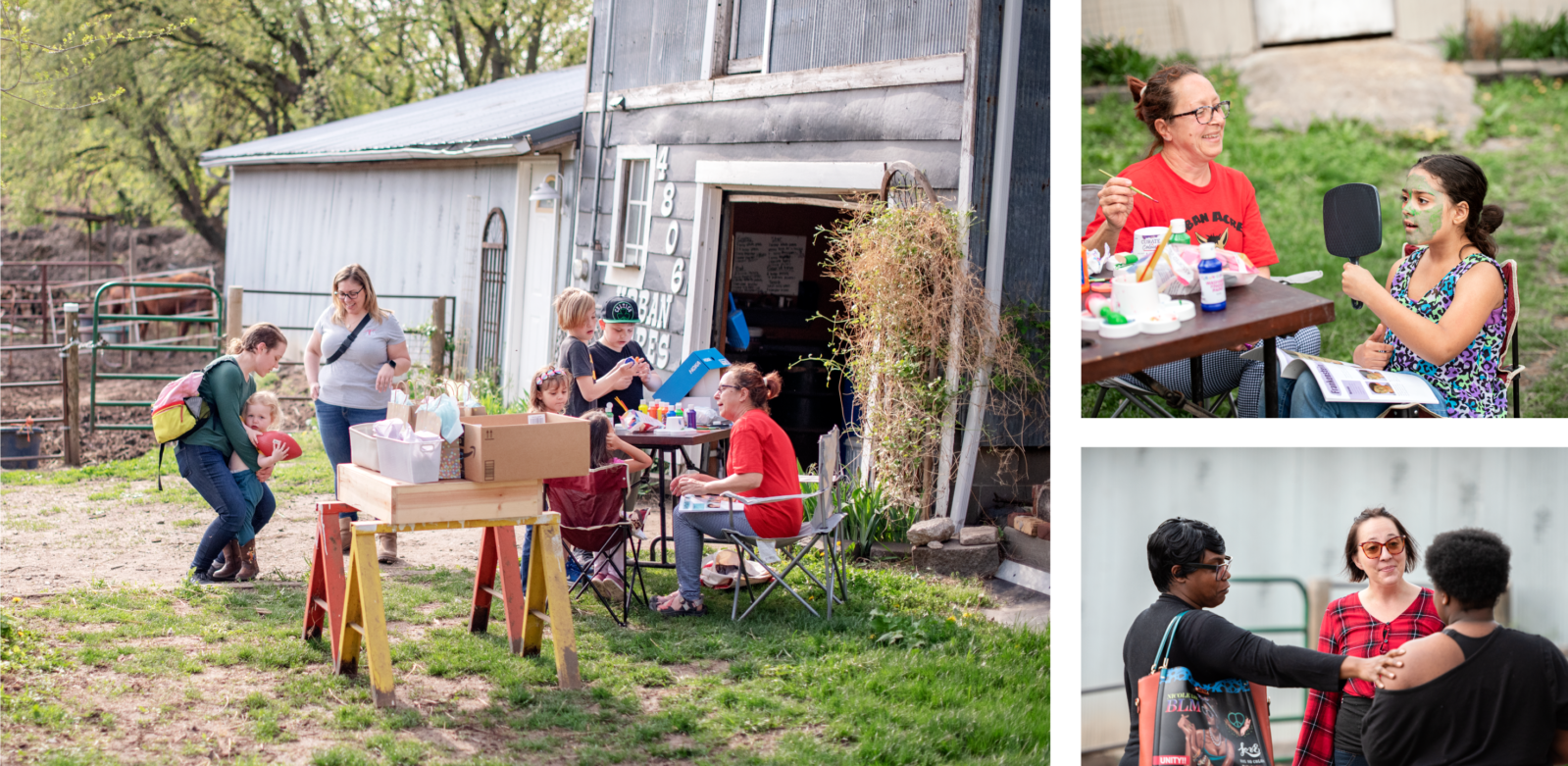 Metcalf especially saw a need for more support for single mothers and moms experiencing poverty or instability—two things that often go hand in hand.
"Most women we serve have lower levels of formal education: a high school diploma, GED, or neither," she said. "Our focus has been in strategically partnering with employers who can provide a living wage for mothers. They are looking for well-paying, stable jobs they can grow and succeed in. Our threshold is $15 per hour, but we recognize that still isn't enough even for a single mom with one kiddo."
Before Covid-19, nearly half of all working women—46% or 28 million—worked in jobs paying low wages, with median earnings of only $10.93 per hour.
Of the women who reach out to MOMentum, about 75% are unemployed. The rest are focused on finding new positions with more flexibility and better pay. They want help thinking through a career path. They might ask: What other options are out there? Is additional schooling needed? If so, what's the best the school to attend?
In her grant application, Metcalf referenced data from The Landscape on women in the workforce.
In Omaha-Council Bluffs, women earn $11,000 less per year than men. On top of that, the local workforce has unfilled positions, but a significant number of potential workers don't have access to those jobs.
"Accessible jobs that pay a livable wage are critical to helping our community recover from the pandemic," said Emily Nguyen, Director of Research and Strategy at the Omaha Community Foundation.
The nonprofit is trying to help women consider traditionally male-dominated fields like manufacturing or construction.
"The issue is with some of those openings is, if it is a union facility, you have to start by working the second or third shift before bidding into the first," Metcalf said. "I'm hoping to partner with more employers in the trades that have first shift openings."
Another common issue experienced by working mothers is the lack of backup child care.
"They usually have child care but need backup solutions," Metcalf said. "There are few options for a single mom who doesn't have family in town if their kids are sick or the daycare suddenly closes. She has to take off work."
MOMentum is helping women start their own child care programs in partnership with the Nebraska Cooperative Development Center, hoping to increase child care options. She also wants MOMentum to be a part of providing that backup care for moms.
"When I have money to bring someone on board, my first hire will be an emergency child care coordinator to go to the mom's home and be that backup care," she said. That way, Mom can get to work. 
ABOUT THIS STORY
In 2021, the Community Resilience Fund supported Omaha-area nonprofits serving communities disproportionately affected by Covid-19. MOMentum was one of 37 nonprofits to receive a grant. Thanks to generous community support, a total of $527,942.75 went to programs and services focused on arts and culture, housing, learning recovery, mental health, and workforce. See the list of grant recipients.
Moving forward, the Community Resilience Fund will operate on an as-needed basis to provide timely, flexible grantmaking when unexpected and urgent needs arise in our community.