The Donor Services staff at the Omaha Community Foundation is here to make giving through your fund as simple and meaningful as possible.
We've recently added two new Donor Services Specialists to the team and invite you to meet them below.
Vanessa Denney 
Vanessa joined the Foundation after various positions in both the government and nonprofit sectors in Omaha. She brings a strong background in fundraising, development, and relationship-building to her new role. Vanessa is excited to use these experiences at OCF to further the Foundation's work to make philanthropy accessible, personal, and fun. She especially loves the opportunity to match donors with a meaningful program or project in the community and provide the support and connections to help them realize their philanthropic goals.
Emily Prauner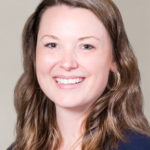 Emily brings experience in both program development and fundraising to her new role at OCF. Before joining the Foundation, she worked on the development team at Habitat for Humanity where she honed her skills in collaboration and nonprofit management. She's passionate about ensuring philanthropy is accessible to people of all ages and all backgrounds and will use this interest to help drive the Foundation's youth and family giving areas of focus. She loves that OCF serves as a catalyst and facilitator of community-wide partnerships, utilizing the Landscape, Omaha Gives, and capacity building work to drive change.
To contact our Donor Services team, email giving@omahafoundation.org or call (402) 342-3458.