Recently Mark Weber, of SilverStone Group, shared his insights on the evolution of the Chartered Advisor in Philanthropy® (CAP®) program in Omaha.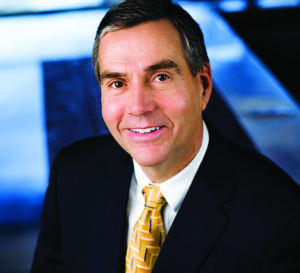 What were the goals of bringing the Chartered Advisor in Philanthropy (CAP®) program to the Omaha metro?
In 2011, I attended a donor recognition event where Warren Buffett challenged those in attendance to do what they could to make Omaha the most charitable city per capita in the country. While inspired by his words, I knew that I did not have enough personal wealth to truly move the needle toward this goal.
However, I had worked closely with attorneys and accountants who served many of Omaha's wealthiest individuals. From experience, I knew these individuals often consulted their tax advisors while contemplating significant charitable gifts, and I also knew that very little was taught about charitable giving in law and business school. It was my hope that providing education to advisors about charitable giving would enable them to provide better advice to their clients and ultimately increase charitable giving in our community.
How has the Omaha program differentiated itself from similar offerings across the country?
Omaha is unique in that participation in our local cohort is by invitation only.  Selection is based on students' expertise and experience. Annual participation is limited to 12-16 students who are equally divided between tax attorneys, tax accountants, financial services professionals, and nonprofit development professionals. Beyond the set curriculum, our community's top philanthropists regularly serve as guest speakers to the class. It is a real treat to have these titans of industry speak intimately about their careers, families and philanthropy to our group.
We are extremely proud that 100% of our participants have successfully completed the program and earned their CAP® designation. We're excited to kick off our sixth local CAP® class this spring!
How has the program evolved since the first local class participated five years ago?
Early on, I felt as if I had to "sell" advisors on the idea of committing 100 to 150 hours of study time, investing dollars in tuition payments and taking tests to earn a professional designation they had never heard of. Now we have a waiting list of students, and virtually every major firm in our area has had at least one associate participate.
What have you enjoyed most about serving as the facilitator of the program?
The students in the CAP® program are the best and brightest from their organizations. They are motivated to improve themselves and sincerely want to provide better service to their clients. It is fun to teach when everyone comes excited to learn and wants to stay, even when the class is over. Also, I feel as if I'm having a positive impact on the lives of people and the community when I hear stories of how advisors are using what they have learned in class to make a difference in their clients' lives.
How do you feel the Chartered Advisor in Philanthropy program has impacted our local community, and what does this mean for our future?
The Omaha community has been incredibly blessed to have its leaders so committed to philanthropy. How these individuals pass on their wealth will have a long-term impact on our city. Forty-three CAP® graduates recently participated in a survey self-reporting that they have assisted in the facilitation of $1.4 billion in charitable gifts since graduating from the CAP® program. While we cannot definitively say these gifts were the result of the CAP® experience, it is our hope that CAP® has enhanced our graduates' capabilities to evoke conversations about legacy goals and charitable planning with their clients.