Omaha Gives! is a day of inspiration and impact. Six years ago, the Omaha Community Foundation conceived this 24-hour giving celebration to inspire a spirit of philanthropy throughout the community; democratize giving, introduce donors to new organizations, and further the connections between area residents and our growing nonprofit community.
While we can count the day's impact in numbers—$35 million raised in five years, a record (!) 52,886 donations given in 2017, almost $1 million in new giving each of the last three years, and tens of thousands of visitors to our website—we know that the intangible impact of Omaha Gives! —the results that aren't quantifiable—are often the most profound. It's the long-term connections made between a seasoned donor and a new organization, or a friendship sparked by an introduction at one of the many Omaha Gives! events that take place every year. And most importantly, we know the impact of the funds raised by nonprofits carries significant weight into the weeks, months, and years to come. These organizations are using their funds to address our region's greatest needs and challenges every day. Whether your donation is supporting education, health, or the arts—it's affecting the programs and services that are strengthening our community from the ground up.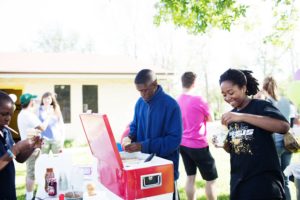 This impact would not be possible without the enthusiasm of our participating nonprofits, and the incredible generosity of our community.
Omaha Gives! is a day where people from all corners of the community join together to both inspire and be inspired. It's a day for nonprofits to share their unique stories and shout out loud about the positive contributions and the meaningful influence of their work. And it's a day for you to be inspired; to find a new organization that tugs at your heartstrings, or to renew your support for a favorite organization working in an area you're passionate about. This May 23, we will have nearly 1,000 participating nonprofits of all sizes who will connect with us through their efforts and enthusiasm. The spirit of the day is contagious, so get ready to give to those nonprofits that are doing the work you find most compelling.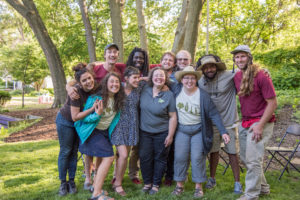 Are you looking for a new way to inspire others this year or make a greater impact? Last year, nearly 400 individuals created Cheer Pages to fundraise during Omaha Gives! on behalf of a favorite nonprofit. By harnessing the power of your own social network, a Cheer Page lets you tell your personal story about why you give and to ask your friends and family to give in support of your favorite organization. This year we are adding incentives for the most ardent enthusiasts. We'll be awarding new prizes to our top Cheer Page fundraisers who can rally their circles and raise dollars for their favorite nonprofits.
Omaha Gives! is taking place on Wednesday, May 23 from midnight to midnight, with scheduled donations beginning on May 1. Whether you make a donation to a favorite or new nonprofit, create a Cheer Page to inspire your personal networks, or help spread the word far and wide, we hope you'll join us in celebrating our region's nonprofit community.
For more information, contact us at (402) 342-3458 or visit www.OmahaGives.org.