Maybe it was a parent, coach, or teacher who at one time or another offered a bit of advice when you and your siblings or teammates were struggling to complete a task: "If you work together, you'll get more done."
At its most basic, that is the mantra of the Omaha Venture Group (OVG), a giving circle facilitated by the Omaha Community Foundation whose members work together to pool their charitable resources and learn about grassroots grantmaking.
Another season of giving kicked off in March as members began identifying, contacting, and meeting with eligible nonprofits. The group of local professionals strategize how to most effectively allocate their pooled funds. It culminates in a Grant Night celebrating the nonprofits awarded their funding.
"When I was originally told about OVG, it was explained to me as a dynamic group of local professionals rolling up their sleeves and getting to know and work with nonprofits through a personal and hands-on approach," said Ben Reynolds, the chair of the 2021 season. "The concept was fascinating to me and I felt it was the perfect way to engage in the community."
Utilizing a venture philanthropy model, OVG seeks out small and emerging nonprofits in the Omaha community. Grants are awarded each cycle in the areas of arts and culture, education and workforce, health and neighborhoods, civic engagement, and safety.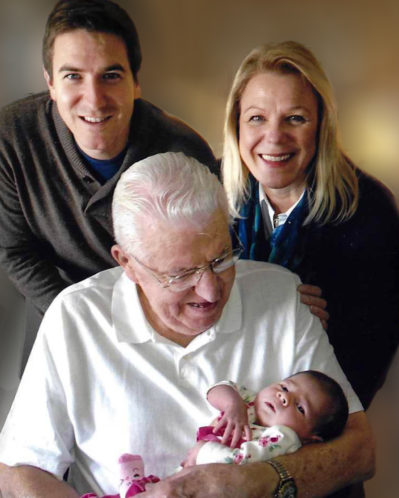 It was the unofficial "mayor of South Omaha" who planted the seeds of philanthropy in Reynolds at an early age. That "mayor" was his grandfather who was always looking to help people in the neighborhood and did it without seeking credit.
> Ben Reynolds, top left, is pictured with his mother Peggy, grandfather Rich Lang, and daughter Ella. >>>
"It's not always the donated dollar that impacts organizations the most but also the sharing of best practices and ideas," Reynolds said. "There is an unbelievable amount of passion in this community to do good for others and leaders of these nonprofits pour their blood, sweat, and tears into their organizations."
COVID-19 altered the nonprofit landscape in the community the past 12 months and Reynolds said OVG is focused on learning more about the new issues and challenges the pandemic exposed. Those challenges became the focal point of sometimes difficult questions OVG asked itself.
"COVID presents many challenges and instead of becoming discouraged, the group doubled down," Reynolds said. "I believe we found ways to make the mission more clear and impactful for years to come."