Last month, individuals representing twenty nonprofit organizations came together to both celebrate and connect as this year's grant recipients of the Omaha Community Foundation's African American Unity Fund (AAUF) and Futuro Latino Fund (FLF). In total, $360,000 in grant funding was awarded.
The event, held at The Union for Contemporary Art on North 24th Street, recognized the important and innovative programs and services that these organizations—and their leadership and staff—offer throughout the metro area.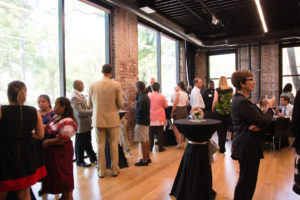 Sara Boyd,  President and CEO of the Omaha Community Foundation, welcomed the group, thanking them for their dedication to improving their communities and bettering the entire region. Tonya Conley, Chair of the AAUF Grant Committee, and Lisa Cuevas-Jorgenson, Chair of the FLF Grant Committee presented awards to representatives from each nonprofit.
The grant recipients represent a range of programs and services focused on the needs of Omaha's African-American and Latino communities. Funding will go to projects ranging from an internship program that engages youth in the healthcare field, support for a new community resource center in South Omaha, to a financial literacy program for teens, and a scholarship program benefiting DACA recipients.
This year marks the ninth year for the African American Unity Fund, and the eighth year that the Futuro Latino Fund have awarded grants to nonprofits throughout the community. Recipients are determined annually by a committee of professionals and community leaders that reflect the populations served by each fund. The next grant cycle will open in the spring of 2018.
The mission of the African American Unity Fund is to involve more African Americans in philanthropy and to provide support to emerging nonprofits that improve the quality of life for African Americans in Omaha area. The Futuro Latino Fund provides philanthropic support to improve the quality of life of Latino families and communities in Omaha.
African American Unity Fund Grant Recipients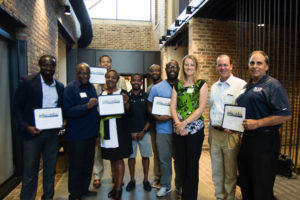 Salem Baptist Church — A Work On A Wheel, $25,000
Jesuit Academy — Graduate Support for Jesuit Academy Alumni, $25,000
Omaha Housing Authority Foundation — OHA Youth INCYTE (Inspiring and Culitvating Youth Through Empowerment), $25,000
Urban League of Nebraska – Young Professionals — Professional & Leadership Development and Community Engagement for Black Young Professionals, $20,000
NE Sigma Zeta Education Foundation — I AM Academy and Community Dance Outreach Program, $20,000
Omaha Minority Community Development Fund — Native Omaha Days 2017, $7,500
North Omaha Area Health — Let Good Grow 2017 Summer Internship Program, $25,000
Simple Foundation — The K.I.C.K It Soccer Academy Program (Safe Place to Play and Learn), $25,000
Descendants of DeWitty NE — Descendants of DeWitty Traveling Photo Exhibit, $20,000
Urban Financial Services Coalition Omaha Chapter Inc — Mad City Money Program/Operations-Travel Expenses, $7,500
Futuro Latino Fund Grant Recipients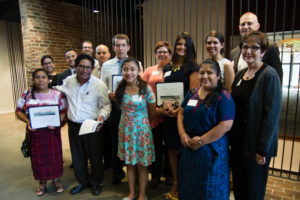 A Time to Heal — Un Tiempo Para Sanar/ A Time to Heal Videos & Latino Educational Support Groups, $8,000
Comunidad Maya Pixan Ixim Reinforcing Our Roots, Living Our Maya Heritage — CMPI Capacity Building and Operational Support (combined request), $50,000
Deer Park Neighborhood Association — Deer Park Community Resource Center, $10,000
Matters on Tomorrow —True Potential Scholarship, $15,000
Metro Young Latino Professionals Association (MYLPA) — MYLPA's Professional Development & Civic Engagement Programming, $10,000
Omaha Permaculture — City Sprouts South Property Design Class and Spring Project, $10,000
Police Athletics For Community Engagement — PACE – Field Irrigation and Maintenance, $7,000
Sisters of the Presentation of the Blessed Virgin Mary of Aberdeen SD — Presentation Sisters LIVE Leadership Camp for junior high girls, $5,000
SOCCC, Inc. — SOCCC and Omaha Public Schools Grassroots Leadership Development Program, $25,000
Victory Boxing — Victory Boxing Club & Community Center, $20,000