Our Impact Investing program supported 3,102 small businesses in 2022, mostly in low-to-moderate-income local neighborhoods. These investments resulted in more affordable housing, jobs, and business training.
We run our Impact Investing Program through our Community Loan Fund. Launched in 2020, the Fund has invested in seven local nonprofit organizations focused primarily on economic development and affordable housing. The investments are structured as flexible, affordable loans, which are then paid back to the Foundation and the participating investors.
To date, the Community Loan Fund has invested $2.18 million in Greater Omaha and Southwest Iowa.
What is impact investing?
Unlike traditional investing strategies, impact investments have the potential for double returns – measurable community impact and financial returns. Further, unlike traditional philanthropic grants, impact investment dollars are repaid and can be invested into new projects.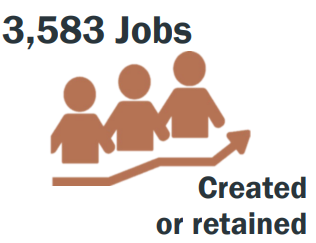 How does our program support local businesses?
The Nebraska Enterprise Fund is a nonprofit organization that provides flexible financing to small and micro businesses. The Community Loan Fund has invested $400,000 in this nonprofit through a low-interest loan, which they use to support entrepreneurs like Sheri Noordam.
Noordam owns Naad's Naturals, an all-natural, homemade aromatherapy and eco-friendly store. Noordam used financing from the Nebraska Enterprise Fund to purchase and equip a travel unit that allows her to travel to markets and events across the country to sell her products. The added exposure opened a new wholesale market for Noordam, and Naad's Naturals are now featured in several stores.
"I met with a representative from the Nebraska Enterprise Fund, showed them my plan, shared my dreams and even the things I was afraid of," Noordam said. "Working with NEF was amazing. I worked with a loan officer who went to bat for me."
Naad's Naturals is just one of the thousands of local businesses supported.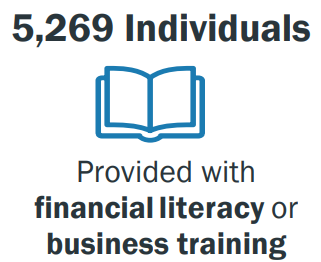 How can you invest?
The Community Loan Fund is a source of capital for the community, and investments and grants to the Fund are critical to its success. There are two ways to participate:
Donate (No minimum)
Anyone can support the Community Loan Fund with a donation.
Invest ($25,000 minimum)
OCF fundholders can invest in the Community Loan Fund using a Donor Advised Fund. The investment is allocated to the Community Loan Fund balance for a 7-year commitment term. At the end of the term, the investment, plus interest less any losses, is allocated back to the Donor Advised Fund and again available to the OCF fundholder for grantmaking.
Learn More
Click here to read more about the program. Or reach out to Kelli Cavey, Vice President of Donor Services, at 402-614-9510 or kelli@omahafoundation.org; or Wynter Davis, Donor Services Advisor, at 402-933-4289 or wynter@omahafoundation.org.