Omaha Gives!
Omaha's 7th annual 24-hour charitable challenge presented by American National Bank is set for May 22, 2019. The giving begins at midnight with a minimum $10 donation and hourly drawings and prizes make your donations go further. So start gathering your circles and get ready for another great big give-together!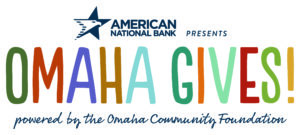 In 2018, nearly 19,000 individuals came together to support nonprofits with gifts of $10 or more through omahagives.org. This generosity resulted in 970 nonprofits in Douglas, Sarpy and Pottawattamie counties receiving more than $7.4 million in donations and prizes during the event.
Thank you to our 2018 Spirit Sponsors for making the day possible: CQuence Health Group, Mammel Foundation, Mutual of Omaha, OCF Fund for Omaha, and TD Ameritrade.
And a special shout out to our media sponsors for helping us encourage the entire community to give big on May 23!: Omaha World-Herald, KETV, Newstalk 1290 KOIL, La Nueva 1020, 1620 The Zone, 101.9 The Keg, Power 106.9, Sweet 98.5, Best Buy Signs, Metro Magazine, WAITT Outdoor, Lamar Outdoor Advertising, and The Daily Nonpareil.
Nonprofit registration for the 2019 Omaha Gives! day will open on January 15, 2019.