The Enrichment Foundation
About the Foundation
The Enrichment Foundation was founded by Connie O'Neil in honor of her sister, Nancy, who was born with cerebral palsy. When she was born, Nancy's parents were told she would be lucky to see 25 years of age. Because the family was able to find quality care for Nancy, she was able to live a full and happy life, living to age 62. Her memorial service was filled with people whose lives she had touched in both big and small ways. She is a testament to the power of individuals with a disability can have to enrich the lives of those around them.
The purpose of The Enrichment Foundation is to reduce the physical and mental challenges of those who are unable to care for themselves as well as the physical and mental needs of their caregivers. The Foundation endeavors to do this by providing assistance through resources that address the soul, as well as the physical and mental needs.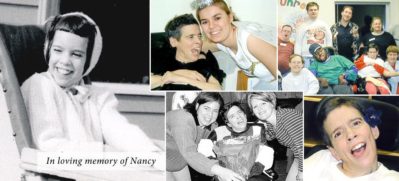 Board Members
Board members include individuals who have experienced the issues involved with individuals with a disability, both from a personal and educational perspective. The board is rounded out with the Omaha Community Foundation's expertise in running a foundation and delivering grants.
Nancy O'Neil Nelsen, President
Tim O'Neil, Vice President
Annie Bird
Eileen Fenton
Ranae Keckeisen
Jason Tonjes
Connie O'Neil, Emeritus
History
Nancy was born with cerebral palsy and as a result, she could not control many of her muscles, including her tongue. These limitations make communication difficult and at times frustrating for Nancy. As a child and a young adult, Connie watched her mother struggle to find help for her younger sister, doing her best to fill the void of services for people with physical disabilities by helping to create the Meyer Rehabilitation Institute. Connie and Nancy's mother died in 1978. Connie cared for her sister after that, until Nancy's death in 2006. During this time, she too, came to understand how few services are available for adults with physical disabilities.
When Connie and Nancy's father was planning his legacy, Connie asked him to put money into a foundation that she would set up to make changes in the care of people who have little opportunity to do it for themselves.
Grant Details
The Enrichment Foundation's resources are directed to individuals who:
Reside in Douglas or Sarpy County
Have a major physical disability
Have fully utilized relevant available funding options
Are preferably adults, though not limited to adults
Client income is considered but is not the major determination for eligibility. The intent of the grant is to provide sufficient resources to soften the financial stresses of physical disability. Ideally, meeting the basic life necessities for a disabled person is not done at the expense of other family members. The goal of the Enrichment Foundation is to assist families with disabled members to live life as normally as possible. Assistance may take many forms including those elements that address the soul as well as the body's needs. Many current programs keep the body alive but not the soul.
Partner Agencies
The Enrichment Foundation does not and cannot make grants or gifts directly to individuals. Individuals seeking The Enrichment Foundation's assistance are encouraged to contact one of the Partner Agencies listed below. Partner organizations work independently of The Enrichment Foundation in selecting those who will receive assistance.
Supporting Organizations and Affiliates