Eighteen local neighborhood associations will receive a combined $50,000 in funding to support resident-led, grassroots projects throughout Omaha.
Grant decisions were made by a committee of nine community members representing different neighborhood associations.
The funding comes from the Omaha Neighborhood Grants Program, a collaboration between the Omaha Community Foundation (OCF), Peter Kiewit Foundation (PKF), and ONE Omaha. Grants will go towards projects ranging from a pop-up alleyway market in Benson, a block party in Hanscom Park, and a prairie savannah restoration project in Spring Lake Park.
"We are thrilled to support these 18 neighborhood organizations who are committed to engaging their residents through new, innovative programs and projects," Jeff Kutash, Executive Director of PKF said. "Not only will the projects have lasting impact on these neighborhoods, but the process of involving residents in the collaboration and planning stages will create opportunity for grassroots leadership development throughout our community."
"A resident-led decision-making process means that those individuals closest to the work on the ground, who truly understand how to support neighborhood associations, are engaged in the funding decisions," Sara Boyd, OCF President and CEO said. "This makes for more democratized, and collaborative funding decisions, which will ultimately grow stronger neighborhoods throughout Omaha.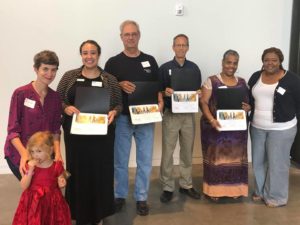 The neighborhood groups receiving funding are:
Benson Neighborhood Association – Pop Up Alleyway Market, $2,000
Gifford Park Neighborhood – 2018 Expansion of the GPNM for entrepreneurship, diversity, neighborhood friendliness, $5,000
Hanscom Park Neighborhood Association – Block Party, Center Street Unified Block Party, $1,204
Joslyn Castle Neighborhood Association – Clarkson Park Improvement Plan, $3,700
Leavenworth Neighborhood Association – Green Lighting for Dewey Park, $5,000
Maple Village Neighborhood Association (MVNA), Maple Village Park Shelter, $5,000
Mayberry Neighbors, Seed Exchange and Donut Social – $600
Morton Meadows Community Garden – Morton Meadows Community Garden Phase 2, $5,000
Neighborhood Action and Fact Association –Neighborhood Beautification & Improvement, $2,500
North 24th Street Corridor –Neighborhood Beautification & Improvement, $2,167
OIC Neighborhood Association – Neighborhood Beautification & Improvement, $2,500
Omaha Permaculture– OP Bulletin Board Sculpture Project, $1,500
Pacific Heights Shaker Heights Neighborhood Association– Effective Communication Promoting Growth in Participation, $1,920
Peony Park Neighborhood Association – Garden Sign and Screen, $750
Prospect Village Neighborhood Association (NA) – Thursday Night Market, $5,000
Royalwood Estates Homeowners Association – Royalwood Estates Hanging Flowers, $600
Spring Lake Park Team – Dressing Up Cinderella: Creating a Prairie Savannah, Spring Lake Park, $5,000
Westwood Heights – Westwood Heights Citizen Patrol Equipment, $559
"People learn from what they see. By being invited to participate in the decision-making and project implementation, folks will witness the leadership exemplified by the Spring Lake Park team and will learn from their neighbors to be leaders among neighbors," Janet Bonet, President of the Spring Park Lake Team said. "By supporting these kinds of resident-led efforts, [this grant program] is building a better Omaha."
"This funding will transform our existing Little Library to host both books and seeds," said Jessica Scheuerman, a Mayberry neighborhood resident. "The grant support will provide seed display racks; permanent hand-painted signage; and enable us to host a donut social that will bring the neighborhood together along with the library's artist, funders, and advocates."
Thirty organizations applied this cycle to receive funding. To have been eligible, associations must be located within city limits and listed in the City of Omaha's neighborhood directory. Grants were awarded between $500 and $5,000 for projects that provided enhanced safety, beautification, organization, or social benefits to a neighborhood.
As part of the grant requirement, all associations who received funding must also provide a match in the form of money, volunteer hours, in-kind services, or contribution of materials or supplies. Neighborhoods must use the funds by October 2018.
The next Neighborhood Grant Program will open on November 1, 2018. For more information and to apply please visit the Neighborhood Grants page.