The Landscape: An Investment in Our Community
The Landscape is a project organized by the Omaha Community Foundation (OCF) that incorporates publicly-available data, policy review, and insight gathered from direct engagement with residents in Douglas, Sarpy, and Pottawattamie Counties.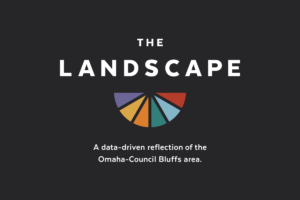 We believe that to invest in the community, we must first know the community. To that end, OCF has built a strategic operating model of community knowledge and investment that provides understanding to the issues community members are facing today.
Together, we can use this data and insight to invest in the most vital areas of community life, so that the Omaha metro is a great place to call home and raise a family for all people—regardless of who you are or where you live.
We invite you to explore how our community is fairing at http://www.thelandscapeomaha.org or download The Landscape Community Listening Report.