Earlier this month, the Fund for Omaha, the Foundation's largest grant program, awarded $97,340 to eight local nonprofits with operating budgets under $500,000. 
The Fund, which distributes grants twice a year, is designed to help nonprofits address timely, local needs and support effective solutions to community challenges.
In the fall grant cycle, 43 small organizations submitted Letters of Intent, with grants ultimately awarded to eight nonprofits for general operating support.
Grant funding will support a variety of small nonprofits that serve clients ranging from the visually impaired, to youth in our community.
In awarding the funds, a grant committee looked at four main criteria in making their determinations: organizational strength, understanding of needs, strength of strategy, and infrastructure and resource management.
The following organizations received funding in this cycle:
Big Garden, Operating Support-Big Garden Education Programs, $20,000
City Sprouts, Operating Support-City Sprouts Educational Programming, $25,000
Institute for Holocaust Education, Operating Support-World War II Speaker Series and Field Trips, $7,135
Junior League of Omaha, Inc., Operating Support-Project Hope Pack, $10,000
Pear Tree Performing Arts, Operating Support, $15,000
Radio Talking Book Service Inc., Operating Support-Radio Talking Book Network, $10,000
Share a Fare, Inc., Operating Support-Cab Subsidy Program for People who are Blind or Visually Impaired, $5,000
Take Flight Farms, Operating Support-Take Flight Farms Self Esteem Program in partnership with Girls Inc., $5,205
"These organizations are providing so many important programs and services in our community," Anne Meysenburg, Director of Community Investment said.  "The flexibility provided to these smaller organizations with general operating support entrusts them to do what is needed to reach their missions."
While these eight organizations represented less than 20% of the grant requests, collectively the full body of applications offered an even deeper look at the current needs and priorities in our nonprofit community. The Foundation uses these applications to gain additional insight into programmatic trends, capacity gaps, and community challenges.
Additional learning and insights from the most recent grant cycle included:
-45% of organizations in the fall grant cycle were first-time applicants to the Fund for Omaha
-35% of the organizations who applied were nonprofits established in the last three years
-72% of requests were for general operating support; within that the most common requests came from organizations with programming centered on youth, basic needs, or arts and recreation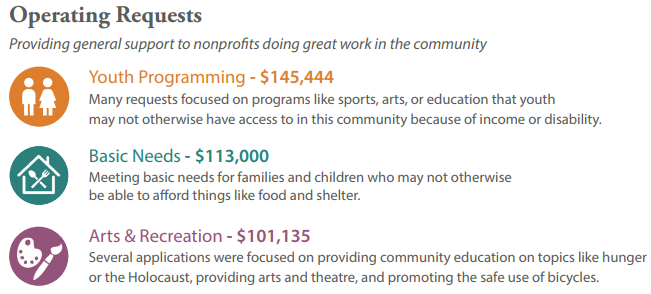 -Within the capacity requests, nonprofits most often asked for funding to hire and pay new staff positions at their organizations; 50% of capacity requests were for new staff
-Almost half (44%) of the 43 applications were connected to community indicators we explore in The Landscape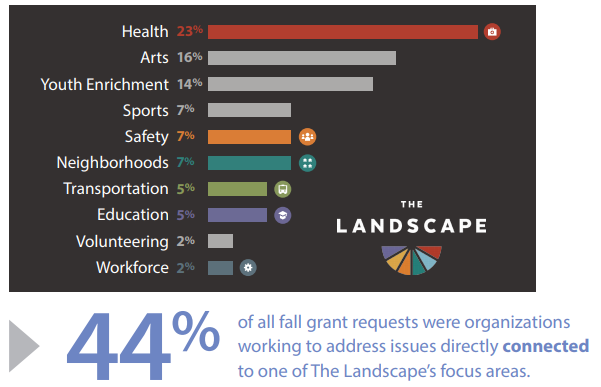 The Fund for Omaha distributes grants twice a year to nonprofit organizations in Douglas, Sarpy, and Pottawattamie Counties; the fall cycle accepts applications from small organizations with budgets of $500,000 or less, and the spring cycle accepts applicants with operating budgets over $500,000.
To read more about the Fund for Omaha program and grant cycles, click here.